Mukesh Ambani:- Reliance Industries Limited (RIL), a conglomerate with a variety of economic activities, including petrochemicals, refining, oil, natural gas exploration, telecommunications, and retail, is chaired and primarily owned by Indian billionaire Mukesh Ambani. Mukesh Ambani was born in Yemen on April 19, 1957. His father, Dhirubhai Ambani, founded Reliance Industries.
Reliance Industries has expanded into one of India's biggest and most prosperous corporations under Mukesh Ambani's direction. With Reliance Jio Infocomm's introduction, he significantly contributed to the growth of the Indian telecom industry by upending the market with its reasonably priced internet and voice offerings.
Ambani is renowned for his ability to foresee technical breakthroughs and his dedication to changing India's digital environment. He's one of the most well-known and influential people in the corporate world thanks to his fortune and connections.
Workplace Career:
After joining Reliance Industries in 1981, Mukesh Ambani was instrumental in the expansion and diversification of the business.
In Jamnagar, Gujarat, India, he oversaw the establishment of the largest grassroots petroleum refinery in the world.
With the introduction of Reliance Jio Infocomm, Mukesh Ambani led Reliance's foray into the telecoms sector, greatly influencing the Indian telecom sector.
Riches and Places:
Mukesh Ambani is regularly listed as one of the richest people in the world. His sizeable ownership in Reliance Industries is the main source of his fortune.
Petrochemicals, refining, oil and gas exploration, telecommunications, retail, and other industries are among the businesses in which Reliance Industries is involved.
Mukesh Ambani House
The name of Mukesh Ambani's home is "Antilia," and it's in Mumbai, India. Antilia is renowned for its distinctive and ostentatious architecture and is regarded as one of the most costly private homes in the world.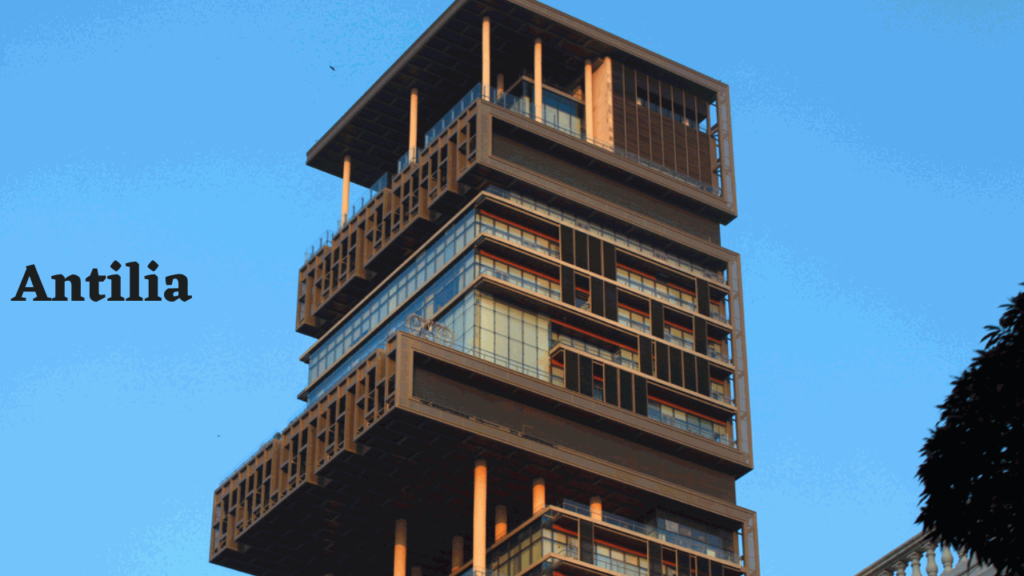 -Advertisement-
Here are some important facts regarding Antilia:
Address: Cumballa Hill, Altamount Road, South Mumbai, India.
Design: Antilia is a 27-story skyscraper with a unique architectural style. The structure's helical and vertical parts define it.
Features: The mansion has many levels of parking, a ballroom, a theater, a swimming pool, a health spa, and several floors devoted to the Ambani family's living spaces, among other opulent luxuries. It also needs a large crew to maintain and run because it has three helipads.
Cost: Antilia is among the most costly private homes in the world, with building costs believed to be in the billions of dollars. The Ambani house is said to have cost around USD 2 billion, or roughly Rs 15,000 crores. According to real estate analysts, Antilia will cost between Rs 80,000 and Rs 85,000 per square foot.
Antilia's magnificence and grandeur have sparked a great deal of public curiosity and discussion regarding its construction and design. It is the principal home of Mukesh Ambani, his spouse Nita Ambani, and their family.
Mukesh Ambani Net Worth
An Indian billionaire businessman is named Mukesh Dhirubhai Ambani. At the moment, he serves as managing director and chairman of Reliance Industries, the most valuable corporation in India based on market value. As of August 2023, his estimated net worth is $90.9 billion, making him the richest person in Asia and the thirteenth richest person globally.
How To Get Home Insurance Quotes 2023 / Best Home Insurance Quotes 2023
Mukesh Ambani Son
Akash Ambani: Mukesh and Nita Ambani's eldest son, Akash, was born on October 23, 1991. He has been actively involved with Reliance Industries, the family business.
Anant Ambani: Anant Ambani is the youngest son of Mukesh and Nita Ambani, having been born on April 10, 1995. He has been connected to Reliance Industries, just like his siblings, and has worked on several projects for the company.
Nita Mukesh Ambani Cultural Centre
Mumbai, India's Nita Mukesh Ambani culture Centre (NMACC) is a performing arts and multidisciplinary culture and exhibition venue that opened for business on March 31, 2023.
For the first time ever in India, explore the Infinity Mirrored Room by renowned Japanese artist Yayoi Kusama, a cosmos of astounding optical illusions and boundless creativity.
The Cube, the Art House, the Grand Theatre, the Studio Theatre, and Dhirubhai Ambani Square.
In order to serve both the artists and the public, the NMACC was designed as a platform to showcase the best of Indian arts and culture. It serves as a comprehensive center that welcomes everyone, including entertainers and guests as well as visionaries and inventors.